Empowering Businesses
with Advanced Technology
How NeovoTech
Works?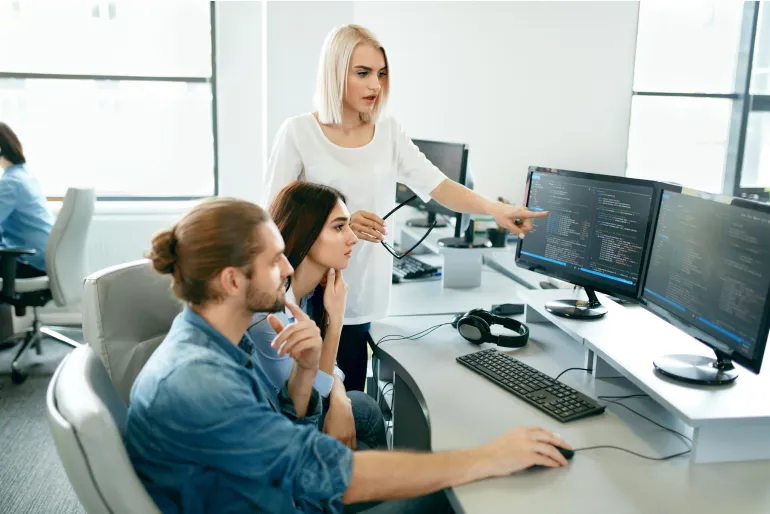 Quality, testing, and timely delivery are our top priorities. We work on a wide range of software projects, and we know that each one is unique, so we treat them all differently.
We manage each piece of custom software in the way that best suits the specific project. We use a variety of technologies and follow a proven process for development tasks to achieve these standards.
Services

We Provide

We're your technology partner, helping you grow with IT services and solutions tailored to your needs. We take a human-centered approach, working with you to innovate and achieve your business goals.
Dedicated Development Team
Augment your team with our experts in data engineering, data science, devops , web and mobile app development in weeks.
Artificial Intelligence (AI)
Our AI experts help you use the latest AI techniques, like machine learning and natural language processing, to solve your real-world business problems.
Urgent Resolution Of IT Issues
We will provide you with our top talents to help resolve your pressing IT issues.
IT Project Completion
Execution of IT project within a fixed budget and timeline.
DevOps Services
Reduce expenses, boost productivity, and quicken the release management cycle with us to accelerate your cloud operations and workloads.
Technical Debt Reduction
Reduce risk in your project by paying back technical debt without interrupting current project development.
Build your MVP on a budget
We can help develop your Minimum Viable Product.
E-Commerce Website Create
Full-package development services specific for E-Commerce.
App Development
Full-package development services specific for E-Commerce.
UX/UI Design
Crafting Exceptional UX/UI Designs. We create visually stunning and user-friendly digital interfaces for apps and websites that captivate users and drive engagement.
Neovotech team are just amazing. We have had some personal websites and dashboards. The team always delivered on time. The best quality with endless iterations. Good Job!
Elizabeth
Los Angeles, CA